Interior Projects » House Renovation, South Hampstead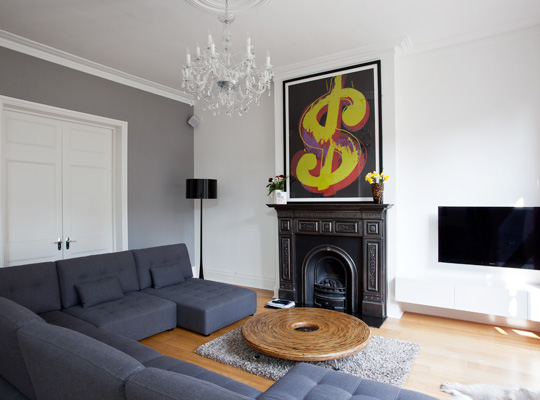 This complete renovation and restoration of a large family house in South Hampstead was one of our largest projects in 2011. This imposing Edwardian period property features five bedrooms, three bathrooms and stands three stories high.
One of our main briefs was to replace the period features that had been taken out over the years. We fitted new ceiling roses, covings, cast iron fireplaces, stripped the floorboards and redecorated the entire house to an extremely high standard. We also restored the original tiled entrance hallway, and supplied and installed classic period cast iron radiators throughout.
Although period restoration was important to the family, they wanted to combine this with cutting-edge technology and some modern twists on the classic Edwardian stylings. We fitted hand-made multi-media units for TV and audio, installed a wireless WLAN network with multiple routers and repeater units on each floor, and sprayed a cast iron fireplace pink! We also fitted hot water underfloor heating throughout the ground floor kitchen and dining area.
Finally, a brand new en-suite bathroom was required, so we designed and built a complete solution featuring a free-standing bath, double walk-in shower, luxury tiling and a handmade fireplace.
"I'm really really happy with all the work Paul and his team did on my house. All work was done to the highest standard and any problems were sorted out straight away. I can't recommend them highly enough! "