Interior Projects » Bathroom Design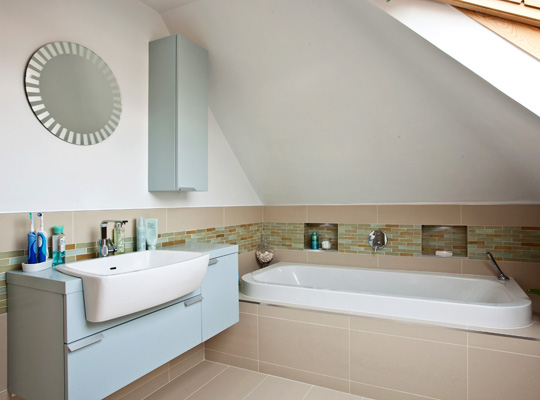 This converted loft in a generous family home in Muswell Hill wasn't giving our clients the best use of light and space. We were asked to design a new layout that would make the most of the available space.
We decided to swap the existing dressing room and bathroom, making for a much larger ensuite bathroom. We designed and installed a brand new bathroom, including underfloor heating. We used a frosted glass "pocket door" which not only looks elegant but is a great space saver. Recessed cubby holes around the bath provide storage space, and the bathroom was finished with luxury tiling.
For the new dressing room we designed and buit handmade fitted wardrobes for storage, fitted a a wooden pocket door and decorated the new room to a very high standard.
"Paul and his team did a fantastic job from start to finish. They greatly improved the architect's plans with some inspiring ideas, and were always willing to incorporate new ideas as the project progressed. I'm really pleased with the end result. Any issues were always quickly and efficiently dealt with. I would use Inspired Design again and wouldn't hesitate to recommend them."