Interior Projects » Bathroom Design North London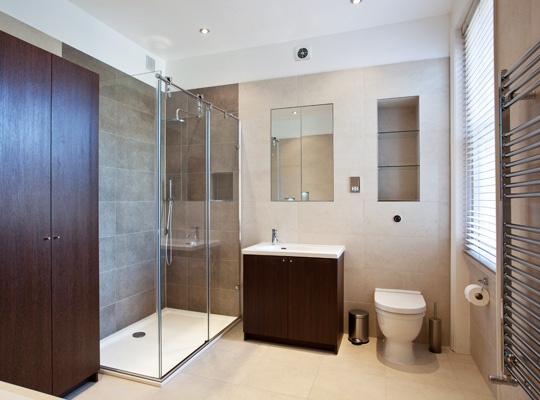 The old bathroom in this family home in North London was quite dilapidated and in desperate need of an update. A complete bathroom redesign was called for...
After our designs were approved, we started by ripping out the old bathroom suite and reconfiguring all the electrics and plumbing. We replastered the ceiling, fitted underfloor heating, a new shower, bath and WC.
When it came to furniture, we worked with our clients to design new cabinets and had these new storage units made to measure. The mirror above the sink is actually a "hidden" concealed cupboard.
There are recessed cubby holes around the bath which are useful for shampoos and toiletries. Finally, we retiled the entire bathroom and finished the last few fittings.
"I got Paul's contact details from Haringey Families and have now used him for a number of projects including a full-scale renovation of a bathroom. He is always calm, responsive, prompt, efficient and on budget - a delight to have around. If there were problems he immediately made sure they were sorted out. We now have a lovely bathroom. I have asked him and his team to do other renovations and all have been carried through extremely satisfactorily."