Interior Projects » Kitchen & Bathroom Renovation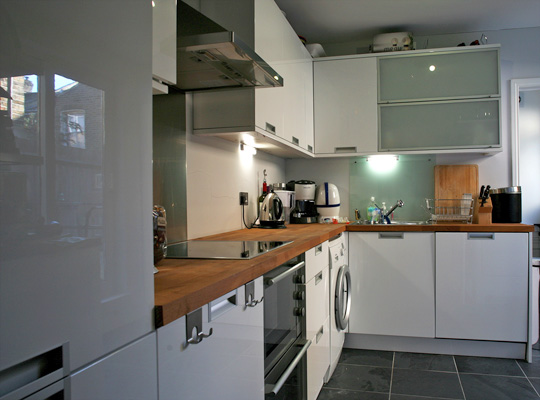 Sarah and Steve weren't happy with their cramped downstairs bathroom and dark, claustrophobic kitchen. Our brief was to redesign and renovate this part of their home to create more space and light.
To create more space, we knocked down the dividing wall between kitchen and bathroom, and rebuilt it in a more suitable position. We also fitted new external doors, made mostly of glass, to flood the kitchen with natural light. With the structural work done, we then plumbed, fitted and decorated both rooms. Features included: Laura Ashley tiles, real wood worktops, glass splashbacks, brushed steel electrical sockets, and new shelving units throughout.